The Government of India has this ambitious plan to complete the conversion to electric vehicles in coming time. All the leading manufacturers like Hyundai, Tata, and Mahindra have come up with their versions of electric vehicles. Electric bikes, scooters and buses are already launched by reputable brands like Ashok Leyland, Hero, Revolt, TATA Motors and others, and it will of course increase the number of vehicles for charging, which clearly shows huge potential profits for upcoming EV hosts. And of course not to forget, Electric pickup trucks! They are in the line too! All these indicate one thing, i.e. there will be huge demand for a public charging base.
BENEFITS OF EV CHARGING POINTS FOR BUSINESSES
Destination charging
If you have the kind of business that will benefit from an increase in the number of people entering a shop or shopping area in a given time, the presence of electric vehicle charging points can contribute significantly to this. EV owners are always looking for more convenient locations to charge their cars - while charging, these visitors could potentially even be converted into customers.
Future-proof your business
EV charging is the best way to future proof your business. For those looking to establish a competitive advantage and to be prepared to manage with the significant expansion of the EV market in the near future, installing electric car charging points now is a smart future proofing move.
Customers stay for longer
Retail businesses benefit from EV charging stations. They motivate customers to stay and look for longer with straightforward parking facilities that can at the same time provide charging benefits. Longer browsing increases the shopping basket.
Keeping employees happy
Employees who feel valued by the business – and whose needs are met – are more engaged and productive. Providing essential electric charging for employees demonstrates a responsive and committed employer.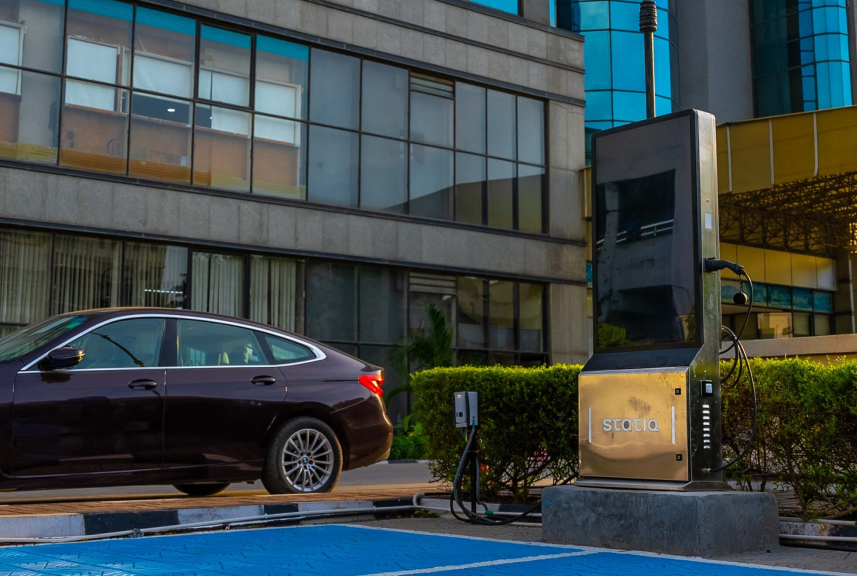 Demonstrating environmental commitment and supporting brand values
Social responsibility is a key value for businesses today and enabling greener transport is an important part of that. EV charging hosting sends a clear and visible message about where the business stands with respect to reducing the environmental impact of its operations and staff.
Improving efficiency and cutting costs
Electric charging points at work may make life easier for employees, reducing time spent seeking out where to charge, for example. For companies where vehicle forces are part of the business, there are opportunities to save on fuel and maintenance costs.
Providing convenience for clients
Clients make decisions about which companies to partner with on the basis of a wide range of factors and convenience is one of the most important. EV charging stations on the premises will be attractive as clients can simply fill up with charge while attending a meeting or site visit.
So now, I think the benefits I told you above have made you ready to trust my words and now you're definitely interested in including Ev charging points in your business by becoming a host. Now, I think we should move further with instructions on setting up EV charging stations on your premises.
HOW TO SET UP EV CHARGING STATION
If you're a property owner of the places like malls, supermarkets, grocery stores, gym, residential area or any particular building with space then you should definitely go for a hosting asap! It will not only gain more profit and customers to you but also it will be a huge step towards saving greenery.
Now let's get started with the set up of EV station.

Familiarize yourself with the basics.
Before becoming a charging host be very clear about the basics of EV and EV charging. . It helps if you can educate yourself about the Japanese and European technology options of EV charging.
Research on the market
Chargers are typically classified into various levels. The Level 1 charger being the basic one, comes with very slow charging speed. Level 2 charging typically requires a charging unit on a 240V circuit, like the circuit used to power a common electric clothes dryer. It is the level 3 charger, popularly known as DC charger which is most popular. This category of charger is widely used due to its rapid charging ability. So the very first thing you need to decide to set up an EV charging station in India is the range/kind of electric vehicles you plan to charge through your charging station. For a good start you can start up with a AC type-2 station.
Location
For the best use of your hosting, your property should have a good crowd for a better profit for you. In order to make the most of EV charging station business opportunities in India, you should have a suitable location where maximum usage of electric vehicles is happening currently. The location will be considered as a Public Charging Station as long as it follows the commercial mode of charging of EVs. The place should also have proper entry and exit facilities.
Find the best hosting provider
If you want to benefit your Ev charging business in a more profitable way then you should link with the best hosting providing company with the best services. You should do your own research to connect with the trusted companies. To ease your research I'm recommending you-Statiq (statiq.in), as it is the best company across India. You must get in contact with Statiq and get your hosting asap, and then you're good to go!